Welcome to California River Watch!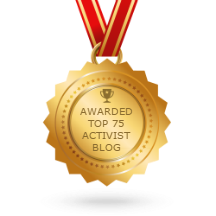 I find some hope for the future of our planet in the emergence of millions of unconnected environmental and social movements. The leaderless Anarchy of this mass phenomenon and its macro scale means that its cells will not be centrally controlled or turned aside by profit motives. It seems to be a genuine grass roots response to the global threat which our planet faces. —Paul Hawken «
CLIMATE CHANGE
The Fifteen-Year-Old
Climate Activist
Who Is Demanding
a New Kind of Politics
By Masha Gessen
October 2, 2019
Sometimes the world makes so little sense that the only thing to do is engage in civil disobedience—even in a country as attached to its rules and regulations as Sweden is. Fifteen-year-old Greta Thunberg has been protesting for more than a month. Before the country's parliamentary election on September 9th, she went on strike and sat on the steps of the parliament building, in Stockholm, every day during school hours for three weeks. Since the election, she has returned to school for four days a week; she now spends her Fridays on the steps of parliament. She is demanding that the government undertake a radical response to climate change. She told me that a number of members of parliament have come out to the steps to express support for her position, although every one of them has said that she should really be at school. Her parents think so, too, she said—that she should really go to school, though she is right to protest.
Thunberg's parents are Svante Thunberg, an actor, and Malena Ernman, a very well-known opera singer. Ernman has published a book in which she described her family's struggle with her two daughters' special needs: both Greta and her younger sister, Beata, have been diagnosed with autism, A.D.H.D., and other conditions. In part because of her mother's fame and the publicity that surrounded the publication of her book, Greta's protest serves a dual purpose. It not only calls attention to climate policy, as she intended, but it also showcases the political potential of neurological difference. "I see the world a bit different, from another perspective," she explained to me, in English. "I have a special interest. It's very common that people on the autism spectrum have a special interest."
Thunberg developed her special interest in climate change when she was nine years old and in the third grade. "They were always talking about how we should turn off lights, save water, not throw out food," she told me. "I asked why and they explained about climate change. And I thought this was very strange. If humans could really change the climate, everyone would be talking about it and people wouldn't be talking about anything else. But this wasn't happening." Turnberg has an uncanny ability to concentrate, which she also attributes to her autism. "I can do the same thing for hours," she said. Or, as it turns out, for years. She began researching climate change and has stayed on the topic for six years. She has stopped eating meat and buying anything that is not absolutely necessary. In 2015, she stopped flying on airplanes, and a year later, her mother followed suit, giving up an international performing career. The family has installed solar batteries and has started growing their own vegetables on an allotment outside the city. To meet me in central Stockholm, Thunberg and her father rode their bikes for about half an hour; the family has an electric car that they use only when necessary.
Sweden prides itself on having some of the most progressive climate legislation in the world: policies adopted over the last couple of years aim to make Sweden "the first fossil-free welfare state in the world." But there was relatively little discussion of climate policy in the lead-up to the September election, even after Sweden was hit with an unprecedented heat wave and catastrophic fires in July. Karin Bäckstrand, a climate-policy researcher at Stockholm University, told me that climate policy wasn't an election issue precisely because a broad national consensus exists. "Everyone except the [far right] Swedish Democrats agree that we should become fossil-free," she said.
Thunberg calls bullshit on the consensus. In our conversation, she pointed out that, despite Sweden's progressive legislation and the scientific consensus that rich countries must cut their emissions by fifteen per cent a year, in Sweden actual emissions had gone up 3.6 per cent in the first quarter of this year. She has written a piece called "Sweden is not a role model," in which she points out that even the best-laid plans to address climate change make no attempt to look beyond the year 2050. "By then I will, in the best case, not even have lived half my life," she wrote. "What happens next?"
It's true that emissions have risen this year, Bäckstrand said, because Sweden is experiencing an economic boom. On the other hand, the country has cut its emissions by twenty-six per cent since 1990, even while its economy has grown. In just ten years, Sweden has increased its use of renewable sources of energy by twelve per cent. The country is building the world's first fossil-free steel plants. (To put this in context, Bäckstrand noted that she had just returned from San Francisco, where more than twenty thousand people, including the representatives of dozens of national governments, attended the Global Climate Action Summit, but no one from the Trump Administration attended; "Trump didn't even tweet about it!" Bäckstrand said. Bäckstrand added that Thunberg's "voice is needed, because until the fires and the drought, climate change was priority number eight for Swedes. She is arguing that it should be at the top, and she is right." Thunberg's strike has received extensive coverage in Sweden; for the time being, she is a household name, and climate change is a topic of daily conversation.
Thunberg's is a voice of unaccommodating clarity that reminds me of Soviet-era dissidents. I suspect that some of them were also on the spectrum, which in their case meant acting irrationally in the framework of the Soviet system—risking their lives to make the doomed demand that the country act in accordance with its written laws and declared ideals. Thunberg smiled in recognition when I told her this. "I can become very angry when I see things that are wrong," she said. On a recent class trip to a museum exhibit on climate change, for example, she noticed that some figures in the show—statistics on the carbon footprint of meat production, for example—were wrong. "I became very angry, but I'm quiet, so I just went to the exit and sat there by the doors. I didn't say anything until people asked me." In general she prefers action to conversation. In undertaking her school strike, she was inspired by the protests staged by American high-school students in response to the Parkland shooting this year—Thunberg's sit-in is also a walkout.
When Thunberg is at her now-famous post outside of parliament, people come by to talk to her and bring her food. This has had an unexpected effect: Thunberg, who generally eats the same things every day, has tried new food. She surprised herself by doing this, and by finding that she likes falafel and noodles.
In the weeks since the election, the Swedish political conversation has centered on topics far from climate change: the main centrist parties finished in a dead heat, making a far-right party, the Swedish Democrats, which came in third, a potential power broker. Formerly rote procedures such as choosing the speaker of parliament and appointing cabinet members have come to overshadow any policy discussion. Thunberg is peculiarly uninterested in this, though. "I think the election didn't matter," she told me. "The climate is not going to collapse because some party got the most votes. The politics that's needed to prevent the climate catastrophe—it doesn't exist today. We need to change the system, as if we were in crisis, as if there were a war going on."
Masha Gessen, a staff writer at The New Yorker, is the author of ten books, including, most recently, "The Future Is History: How Totalitarianism Reclaimed Russia", which won the National Book Club for 2017.
The crisis is upon us. What do we do now?
Shonagh Rae For The LA Times
The world is drifting steadily toward a climate catastrophe. For many of us, that's been clear for a few years or maybe a decade or even a few decades. But others have known that a reckoning was coming for much longer.
A Swedish scientist first calculated in 1896 that adding carbon dioxide to the atmosphere could lead to warmer global temperatures. By the 1930s, scientists were measuring the increase , and in the late 1960s, they had documented the impact of melting ice in Antarctica. By 1977, Exxon-Mobil had recognized its own role in the warming of the ocean, the polar ice melt and the rising sea level.
For obvious reasons, Exxon-Mobil launched a massive public disinformation campaign to muddy the science and downplay the danger. But in retrospect, it needn't have bothered. Because even after the facts became incontestably clear, the world did shockingly little to protect itself. In the first 17 years after the Kyoto protocol committed its signatories to reducing greenhouse gas emissions, global emissions continued to rise. Decades of studied ignorance, political cowardice, cynical denialism and irresponsible dithering have allowed the problem to grow deeper and immeasurably harder to solve.
But today, we are at an important turning point. The changing climate is no longer an abstract threat lurking in our distant future — it is upon us. We feel it. We see it. In our longer droughts and more brutal hurricanes and raging, hyper-destructive wildfires. And with that comes a new urgency, and a new opportunity, to act.
Climate change is now simply impossible to ignore. The temperature reached a record 90 degrees in Anchorage this summer and an unprecedented 108 degrees in Paris. We can watch glaciers melting and collapsing on the web; ice losses in Antarctica have tripled since 2012 so that sea levels are rising faster today than at any time in the last quarter-century. Human migration patterns are already changing in Africa and Latin America as extreme weather events disrupt crop patterns, harm harvests and force farmers off their land, sending climate refugees to Europe and the U.S.
It's often difficult to attribute specific events to climate change but, clearly, strange things are happening. In India, entire cities are running out of water, thanks, scientists say, to a dangerous combination of mismanagement and climate change. In Syria, the civil war that has killed hundreds of thousands of people and displaced more than 11 million is believed by many scientists to have been sparked at least in part by climate-related drought and warming. Closer to home, two invasive, non-native mosquito species that have the potential to transmit viruses, including dengue, Zika and yellow fever, have recently been found in several California cities.
According to NASA, 18 of the 19 warmest years ever recorded have occurred since 2000. The last five years have been the hottest since record-keeping began in 1880. July set an all-time record.
The 2020 presidential election
Here's another reason we're at a turning point (at least in the U.S.): An election is coming.
For three years, Americans have been living under the willfully blind, anti-scientific, business-coddling rule of President Trump, who has stubbornly chosen climate denial over rationality. We now have an opportunity to resoundingly reject his policies by voting him out of office, along with congressional Republicans who enable him. There are plenty of reasons to fight for Trump's defeat in November 2020, but his deeply irresponsible climate policies — including moving to pull the U.S. out of the Paris climate agreement, roll back President Obama's emission limits on coal-fired plants, rescind rules governing methane emissions and relax national fuel emission standards — are among the strongest.
It is late — terribly late — for action, but with luck, perhaps it is not too late to avoid some of the worst impacts of climate change. Across the world, people finally recognize climate change as a top or very serious threat, according to the Pew Research Center. In the U.S., even Republicans — especially younger ones — are waking up to the realities and dangers of a warming planet.
Fewer and fewer people today doubt the overwhelming scientific evidence: By burning fossil fuels for energy, humans have added so much carbon (and other greenhouse gases) to the atmosphere that we are changing nature itself, imperiling the delicate interdependence among species and putting our own survival at risk. Scientists say that we must radically transform how we make and use energy within a decade if we are to have any chance of mitigating the damage.
Where do we go from here?
But figuring out what must be done at this late stage is complicated. There are many sources of emissions and many ways to approach them, from the microsteps that can be taken by individuals — Do you have to take that car trip? That airline flight? — to the much more important macro-policies that must be adopted by nations. Globally, 25% of emissions today comes from burning fossil fuels to create heat and electricity, mostly for residential and commercial buildings; another 23% is the result of burning fuel for industrial uses. And 14% comes from transportation.
All that burning of carbon fuels needs to end; yet unless policies and politics change dramatically, it won't. Even today, two-thirds of new passenger vehicles bought in the U.S. last year were gas-guzzling pickup trucks and SUVs. Those SUVs will be on the road an average of eight years, and the pickups for 13, as the time to address the problem slips away.
In the years since Kyoto, the world has undertaken significant efforts to ratchet down energy consumption, curtail coal burning and turn to renewable energy, yet overall emissions have increased. Today there are 7.7 billion people on the planet — twice as many as 50 years ago — and more people means more demand for power, especially in fast-growing countries such as India and China. Last year saw a global acceleration of emissions, as total carbon levels in the atmosphere reached 414.8 parts per million in May, the highest recorded in 3 million years. The richer human society becomes, it seems, the more we poison the world.
At this point, the mission is no longer to avert or reverse climate change, but to mitigate its worst effects (by continuing to reduce emissions and slow warming) and to adapt to others. Adaptation might mean retreating from coastal developments as the seas rise or elevating roads and installing flooding pumps (as the city of Miami is already doing), or creating carbon sinks to remove carbon dioxide from the atmosphere.
None of this is cheap or easy, but neither is the alternative. 2017 ranks as the costliest year for severe weather events and climate disasters worldwide; in the U.S. there was more than $300 billion in damage. Obviously, the cost of dealing with inundated coastal areas — home to as many as 650 million people — will be extraordinarily high . And that's only one of the dangers on the horizon. We can expect people to be displaced by drought, river flooding, hurricanes and typhoons. Parts of the world can expect food shortages, which some believe will lead in turn to political instability, civil unrest and mass migration. The U.S. military rightly calls climate change a "threat multiplier."
Fighting it will be tough. Our democracy doesn't encourage politicians to take bold stances; our economic system doesn't encourage companies to sacrifice profits for the common good. And we humans are understandably disinclined to live differently or make sacrifices. But we must stop dawdling and forge ahead if we are to protect ourselves and our planet.